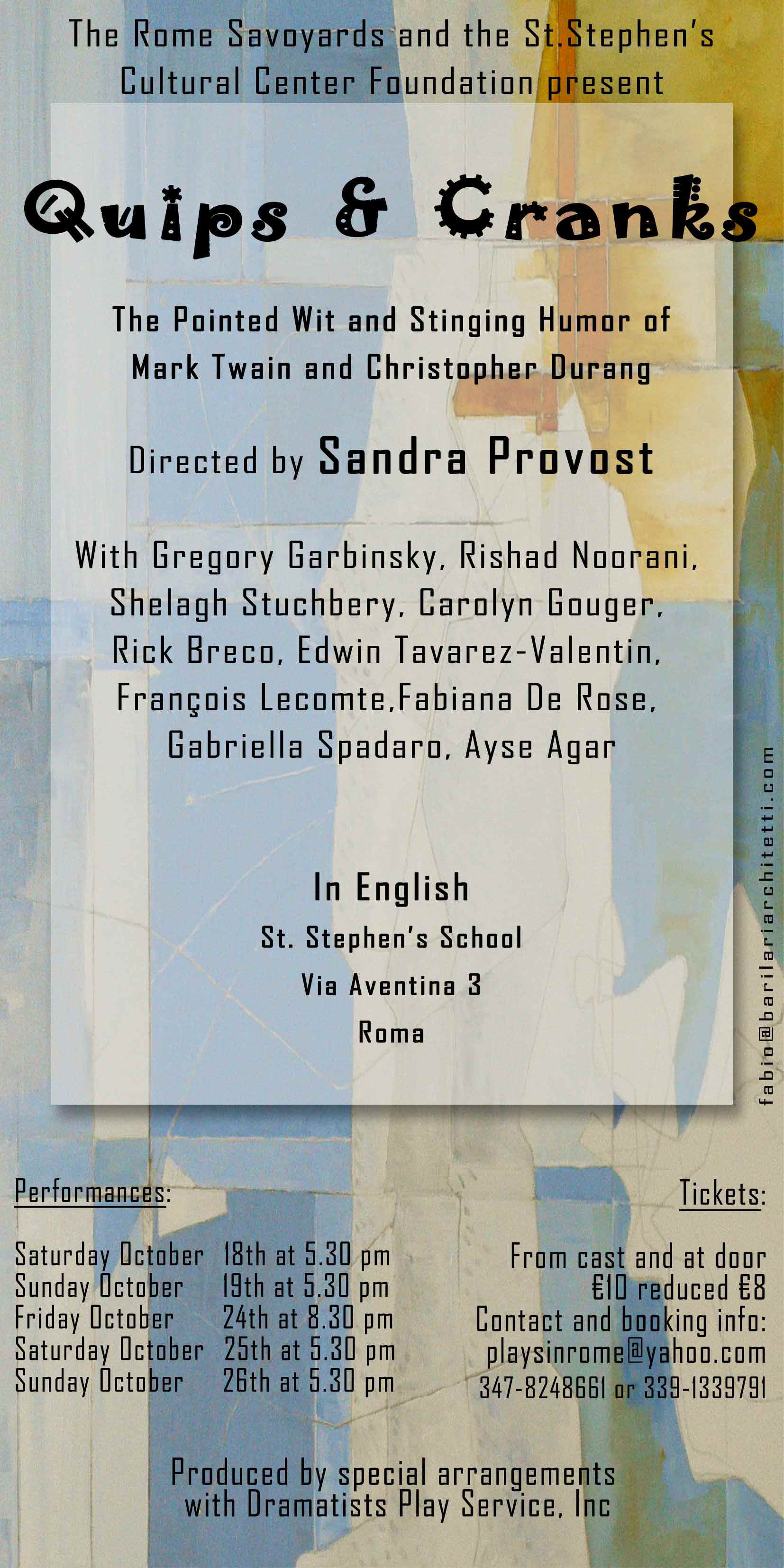 Brief description of pieces and authors:

The evening will open with a short humorous and witty piece arranged from Mark Twain's speeches, namely

"Mark Twain in Rome ".

In "Mark Twain in Rome", Mark Twain speaks to a Roman audience on learning Italian, growing old, diet, drinking, religion, evolution, war, and morality. Mixing his trademark humor and caustic wit, this piece combines extracts from selected Twain speeches and writings and weaves it into an observation of the world and life which is as applicable in these times as it was at the start of the 20th century. This piece is arranged and composed by Greg Garbinsky and Fabiana de Rose with Mark Twain's own words. Mark Twain (Samuel Langhorne Clemens, born 1835), American humorist, satirist, lecturer and writer. Twain is most noted for his novels Adventures of Huckleberry Finn, which has since been called the Great American Novel, and The Adventures of Tom Sawyer. He is also known for his quotations and vast overall production. Twain enjoyed immense public popularity, and his keen wit and incisive satire earned him praise from both critics and peers. American author William Faulkner called Twain "the father of American literature."

The second part of the evening will present a selection of one-acts by Christopher Durang, ensuring satire, humor and stinging wit. Christopher Ferdinand Durang (born 1949) is known for works of outrageous and often absurd comedy. His work often deals critically with social, cultural and religious issues. His vast production includes works for both the theatre and film. Among his plays: Beyond Therapy, Sister Mary Ignatius Explains It All For You, The Marriage of Bette and Boo, Laughing Wild. He has written numerous one act plays including The Actor's Nightmare, For Whom the Southern Belle Tolls, Naomi in the Living Room, and 'dentity Crisis. He was a finalist for the Pulitzer Prize in Drama in 2006 and received several Obie Awards.